Integrate with Adobe Comerce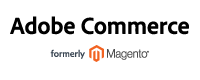 Adobe Commerce is a robust and comprehensive e-commerce platform that enables businesses to create and manage highly customizable and scalable online stores. Formerly known as Magento Commerce, Adobe Commerce offers a wide range of features and tools to support end-to-end e-commerce operations. With its flexible architecture, businesses can tailor their online stores to suit their unique requirements, from design and branding to product catalog management, order processing, and customer experience.
Adobe Commerce provides a seamless and intuitive user interface for merchants, allowing them to efficiently manage their product listings, pricing, promotions, and inventory. The platform also offers powerful marketing and analytics capabilities, empowering businesses to drive customer engagement, personalize experiences, and optimize conversions. Additionally, Adobe Commerce supports integration with various third-party systems and extensions, enabling businesses to extend their store's functionality and adapt to evolving market trends. Overall, Adobe Commerce is a comprehensive e-commerce solution that empowers businesses to create compelling online shopping experiences and achieve success in the digital marketplace.