Integrate with CommerceHub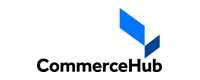 Founded in 1997, CommerceHub created the first universal translation engine for sharing data and business processes between companies with functionality for drop-ship order management. Since then, the firm has grown into a leading provider of cloud-based ecommerce fulfillment and marketing solutions for over 15,000 suppliers, brands, and distributors totaling $30B in gross merchandise value annually, with millions of SKUs supported. CommerceHub helps the world's top brands reach new audiences, increase sales, and improve operations via high-volume drop-ship programs and customizable business rules and processes.
Acenda enables seamless integration with CommerceHub, including the CommerceHub API for orders, inventory, shipments, and products. Alongside our CommerceHub integration, we provide a comprehensive order management system that helps streamline operations for hundreds of B2B and B2C enterprises, with support for drop-shipping and multiple warehouses. Designed for compatibility, our multi-channel ecommerce platform features over 70 key integrations to help grow your business, including additional supply chain integrations with DSCO, SPS Commerce, and many more.