Integrate with CommerceHub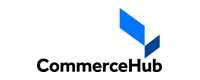 CommerceHub is a leading provider of e-commerce fulfillment and integration solutions that help retailers and brands expand their product assortment and streamline their supply chain operations. Their platform enables businesses to connect and integrate with a vast network of suppliers, marketplaces, and sales channels, allowing for efficient product listing, order fulfillment, and inventory management.
CommerceHub's robust platform provides businesses with tools to optimize their product assortment and selection by seamlessly integrating with suppliers and aggregating product data. The platform also offers automated order routing and fulfillment capabilities, ensuring that orders are efficiently processed and shipped from the most appropriate fulfillment centers. Additionally, CommerceHub provides real-time visibility into inventory levels, enabling businesses to prevent stockouts and maintain optimal inventory levels. By leveraging CommerceHub's e-commerce fulfillment and integration solutions, businesses can expand their reach, improve operational efficiency, and deliver a superior customer experience across multiple channels and marketplaces.