Integrate with Order Desk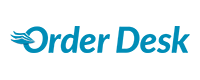 Order Desk is an order management platform that helps businesses streamline and automate their order processing workflows. With Order Desk, businesses can centralize and manage orders from multiple sales channels, including e-commerce platforms, marketplaces, and custom storefronts. The platform offers a wide range of features, including order aggregation, inventory management, shipping integration, and customizable automation rules.
Order Desk's intuitive interface and powerful tools enable businesses to efficiently process and fulfill customer orders. It provides seamless integration with various third-party services and fulfillment providers, allowing businesses to automate tasks such as order routing, inventory synchronization, and shipping label generation. With Order Desk, businesses can optimize their order management processes, reduce manual errors, and improve overall operational efficiency. By streamlining order fulfillment and automating repetitive tasks, Order Desk empowers businesses to focus on delivering exceptional customer experiences and growing their business.