Integrate with ShipEngine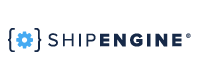 ShipEngine is a powerful shipping API and platform that simplifies the shipping process for businesses of all sizes. With ShipEngine, businesses can easily integrate and automate their shipping operations, streamline workflows, and access a wide range of shipping carriers and services. The platform offers a unified interface that connects with popular e-commerce platforms, marketplaces, and order management systems, allowing businesses to efficiently manage and fulfill their shipping needs.
ShipEngine provides businesses with access to a vast network of shipping carriers, including USPS, UPS, FedEx, DHL, and many more. Through a single integration, businesses can compare rates, print shipping labels, track shipments, and generate shipping documents. The platform also offers features like address validation, international customs forms, and delivery tracking notifications to ensure a smooth and reliable shipping experience. ShipEngine's robust API and extensive documentation make it easy for businesses to integrate their existing systems and automate their shipping processes. With ShipEngine, businesses can save time, reduce costs, and deliver exceptional shipping experiences to their customers.