Sell on Walmart DSV
Official Partner of Walmart.ca since 2009.
How to Sell More on Walmart.com with
Walmart DSV
(Drop Ship Vendor)
Walmart.com has recently eliminated its minimum purchase for its free 2-day shipping, putting even more emphasis on this sales-driving feature as a vital component of any seller's repertoire. The site has been redesigned around this key feature, with placement atop the site search filter and the homepage. The site search algorithm has also been reformulated to favor items with this feature, and sorting by 2-day shipping reduces the playing field significantly, making it a must-have to stand out. Sellers who qualify for 2-day shipping have experienced over a 200% uptick in sales and are more likely to win the Buy Box over the competition. Acenda makes it easy to integrate with Walmart DSV.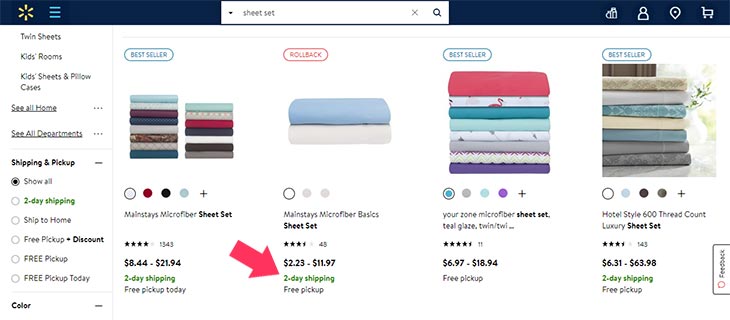 Image Source Walmart.com 09/10/2018
That said, there are 3 ways to become a Walmart.com seller and take advantage of free 2-day shipping (Walmart's algorithm will determine the most efficient freight option (FedEx, UPS, Common Carrier, and rarely USPS); for most regular size items the shipping method is typically FedEx 2-Day). The first is via the Walmart Drop Ship Vendors (DSV) program. Acenda supports integration with Walmart's REST API.  Walmart DSV Item setup and management is seamlessly integrated with Acenda and Walmart DSV.
In this program, you sell your products directly to Walmart at wholesale prices, and you ship either directly to the customer or to Walmart physical stores with Site to Store. There are many advantages to using this program.
Walmart covers shipping freight-out, making the rigors of ensuring nationwide 2-day shipping easier to digest. This means that while you are losing margin by selling wholesale, your lack of shipping expenses may offset any losses if you deal primarily with large and bulky items.
Higher volume than third party sellers
You gain access to Walmart's marketing suite, which has been shown to boost sales significantly.
You have a greater likelihood of winning the buy box over third-party marketplace sellers selling the same product.
Your items will list as "Sold and Shipped by Walmart"; this tends to increase page conversion rates.
Despite the advantages, there are several drawbacks to using the DSV program.
You must pass various verification steps as well as meet rigorous performance standards, such as a proven track record of great customer service and quality products.  These standards are more demanding than those required for third party sellers.
You also don't have much control over product descriptions, retail pricing (Walmart generally looks for merchandise with a cost greater than $28 and a gross margin of 30% for general merchandise and 40% for apparel), and returns (all returns are liquidated -- you need to factor this into your pricing).
You lose control over the carrier, with orders fulfilled exclusively by FedEx.
Finally, you are selling wholesale, hoping the increase in sales along with free shipping outweigh the loss in margin.
Typically, Walmart looks to keep retail price parity with Amazon. Acenda will submit both cost and retail pricing to Walmart. Presently, Walmart's API doesn't support modifications to retail pricing in the API -- we urge you to set the retail price correctly with your initial feed. Any changes to retail pricing must be submitted manually via the Walmart support ticket system. Yuck.
The alternatives to the DSV program are Walmart Marketplace and approved US-based, third-party logistics (3PL), providers.  The primary advantage of these options over the DSV program is retail pricing, which means better margins.  Some of the drawbacks are as follows:
Lower volume than DSV suppliers, which offsets higher margins
Walmart charges a referral fee per item (usually 15%, based on category)
Walmart doesn't pay for shipping, which makes Marketplace seller-fulfilled 2 day shipping cost-effective only for small, expensive items like jewelry.
This is where an approved 3PL provider comes in. They handle logistics, charging you a reasonable fulfillment fee (including shipping) based on item size and weight as well as a monthly storage fee per cubic feet per item, and you gain access to 2-day shipping, nationwide.  Using this route forgoes the need to meet rigorous shipping standards and pass a multi-month approval and testing process, letting you concentrate on running your business.
Things to note when deciding whether to use Marketplace or a 3PL provider:
You are responsible for things like writing product descriptions, posting product images, re-pricing products, exchanges, returns, and providing customer service, making third-party selling a more time and resource-intensive process.
Beyond activating 2-day shipping, retail price (shipping included) is the second most important factor in winning the buy box.  You will, therefore, need to offer free shipping and ensure your price meets or undercuts other suppliers
Third party sellers will also have access to 3 kinds of CPC ads but not the full marketing suite of the DSV program.
As you can see there are many considerations when deciding which platform to use. Estimating the costs of each platform is crucial to yield the best outcome for your specific business configuration.