Sell on Meijer.com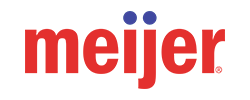 Meijer is a chain of retail supercenters with over 200 locations in the Midwestern United States. Originally founded as a group of grocery stores in 1934, Meijer is responsible for pioneering the supercenter concept. Meijer provides its customers with a wide range of groceries, clothing, shoes, furniture, jewelry, cosmetics, electronics household goods and more. The chain is among the largest private companies in the United States, earning nearly $16 billion in revenue during 2015.
Acenda offers suppliers and manufacturers the opportunity to sell products at Meijer. Our multi-channel e-Commerce platform provides a simple solution for businesses seeking to connect to Meijer and dozens of other leading marketplaces. We provide a fully-flexible and easy to use PaaS (Platform as a Service) that requires no software installation and works to help you optimize your marketplace performance. With Acenda, companies can integrate with Meijer, Amazon, eBay, Walmart, Google and many more.
Connect, customize & optimize multi-channel ecommerce. Free, no risk, and no credit card required. Start your store in minutes.
Already have an Acenda account? Log In
NEW! SELL ON THESE & OTHER RETAILERS:
WATCH OUR "GETTING STARTED" VIDEO: