Integrate with Amazon MCF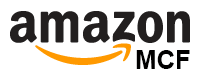 Amazon MCF, or Amazon Multi-Channel Fulfillment, is a service offered by Amazon that allows sellers to leverage Amazon's vast logistics network to fulfill orders from channels outside of Amazon's own marketplace. With Amazon MCF, sellers can store their inventory in Amazon's fulfillment centers and utilize Amazon's expertise in order fulfillment and shipping to deliver products to customers who purchase from other platforms, such as their own websites or other e-commerce channels.
Through Amazon MCF, sellers can benefit from Amazon's robust infrastructure, including its extensive network of fulfillment centers and efficient shipping capabilities. Sellers can easily integrate their non-Amazon sales channels with Amazon MCF, enabling seamless order processing and fulfillment. Amazon handles picking, packing, and shipping of orders, as well as customer service and returns, saving sellers time and resources. By utilizing Amazon MCF, sellers can leverage the reliability and scalability of Amazon's logistics operations to enhance their customer experience, streamline their fulfillment processes, and expand their reach across multiple sales channels.